2016 Festival of Lights: Franco-German lighting with the Professional Bachelor in Lighting Design and Management
Evènement |
December 8, 2016
Thursday, December 8th from 6:00pm to 8:00pm
Friday, December 9th from 5:00pm to 8:00pm
In the framework of the 50th anniversary of the Lyon Goethe Institute and the 2016 Festival of Lights, students from Leipzig and Lyon organized a lighting event around the theme "In/Out".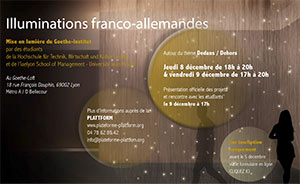 The project was submitted by
the Professional Bachelor in Lighting Design and Management
at
iaelyon
School of Management - University Jean Moulin, the "Asso Lumière" organization, the Hochschule für Technik, Wirtschaft und Kultur Leipzig and "La Plattform"(an organization for young Franco-German creativity)
Under the supervision of Bernard Dussuc, Max Erlemann, Frank Hülsmeier, Pierre Morat and with the help of Brice Anglezan and Philippe Pernin the event was organized by the "Platfform" and the Goethe Institute, in partnership with the German Consulate General.
The project was supported by the Franco-German Youth Office ("OFAJ") and the Auvergne-Rhône-Alps Region.
> Contact : PLATTFORM / plateforme-plattform.org / (+33) 4 78 62 89 42 - Organization for young Franco-German creativity
PARTNERS :

INFOS PRATIQUES
Location
Goethe-Loft
18 rue François Dauphin
69002 Lyon
Subway: Bellecour