2017 Survey on employability: Master's graduates from iaelyon are still on a roll
Evènement |
September 19, 2017
The survey on the professional integration of iaelyon students who have graduated in 2016, the Thierry SYBORD Class (General Manager of Volkswagen France), has shown positive results. The survey has been conducted amongst 871 graduates from a Master's degree (both in pre-experience and in "alternance") between March and May 2017.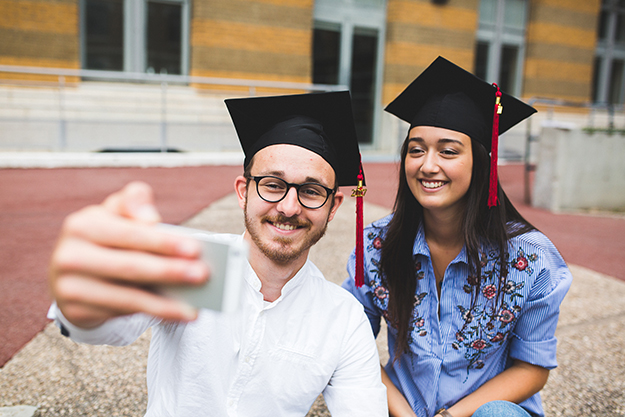 The 2017 survey highlights some key elements:
The results regarding the employability of iaelyon students are good with an integration rate of 83, 2%.

Time spent finding a job: most iaelyon graduates (88%) find work within three months of graduation. 55,6 % are hired during or right after the internship they perform during their second year of Master's degree.

Average income: 77,4% earn a gross annual compensation that is equal or superior to 26 000 euros per year and a quarter of them earn more than 36 000 euros per year.

Type of contract : 69,4% of graduates have a full time permanent job.

Business sectors: 60,2% of graduates work in the services sector (bank, insurance, software and consulting, retail, auditing, accounting, consulting, hotel management…) and 39,8% work in the industry (health, pharmaceutical, chemistry, agri-food, transportation, construction…)

Type of companies: 54,1% of graduates are hired in big companies and medium to large companies (250 employees and above), while 45,9% are hired in small and medium-sized companies and very small companies (1 to 9 employees).

Location: 9,1% of graduates work abroad. Amongst graduates working in France 66,5% work in the Auvergne-Rhone-Alps region.
Graduates' satisfaction is even higher:
It should be underlined that
94,4% of 2016 graduates are satisfied or very satisfied with their first job.
The satisfaction rate is up to
91,8% regarding the adequacy between their job and their education
. Graduates find that iaelyon has offered them a very complete expertise thanks to the overall high teaching quality and applied characteristic of the degrees that are furthermore recognized by companies.
Graduates also find they received a solid education, which meets perfectly the needs of companies thanks to an immersion into the professional world (internships, "alternance", international seminars) and to the tools they have been provided all along their education.
> See the results of the 2017 survey "iaelyon Graduates Professional Integration"


Contact :
Manuel SANCHEZ
, Alumni Coordinator
Ph : +33 (0)4 78 78 71 48