2018 iaelyon International Week: also in Morocco and Czech Republic!
Evènement |
January 8, 2018
Students at iaelyon: take part in the International Week session in Morocco in partnership with HEM Business School and in Czech Republic in partnership with VSE Prague from January 8th to January 13th , 2018
International seminar at HEM Business School (Morocco)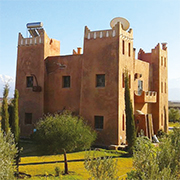 Detailed program of the seminar:
Monday January 8th: arrival in Marrakech
Tuesday 9th, Wednesday 10th : "Leadership for sustainability" seminar, visit of the Menara gardens in the afternoon
Thursday, January 11th: excursion in "Terres d'Amanar": company visit (ecotourism), field study, and team building activities (zip lines, rope bridge…)
Friday , January 12th : presentation of the reports of the field studies in the morning, riding a quad or a camel in the Palmeraie in the afternoon
Saturday, January 13th: departure to Lyon
Full board stay in Marrakech (lunches will be served at HEM Marrakech, breakfasts and dinners are included with the hotel).

International seminar at VSE Prague (Czech Republic)

> Download the program
Detailed program of the seminar:
Monday, January 8th: arrival, housing at the student residence, Konevova street 198, Prague 3
Tuesday, January 9th : conference in the morning, guided tour of Prague in the afternoon, traditional dinner followed by a show.
Wednesday, January 10th: conference in the morning, lunch, guided visit of the Microsoft company followed by a traditional diner
Thursday, January 11th: conferences, lunch followed by a visit of the economic department of the French Embassy and dinner cruise on the Vltava
Friday, January 12th: preparation of the reports of the field study in the morning, presentation of the work done in the afternoon, scavenger hunt in Prague city center followed by a closing dinner
Saturday, January 13th : departure to Lyon
To register for offshore international seminars:
manuel.sanchez@univ-lyon3.fr
The number of places available is limited, it is therefore recommended to register as early as possible.
TESTIMONIES

Réalisation : PAVM, Université Jean Moulin
HEM and VSE Prague, iaelyon partners
Offshore programs, international seminars... HEM is one of iaelyon priviledged partners.
>
Find out more
The University of Economics in Prague, or VSE Prague, is the largest University of Economics in the Czech Republic with some 18,000 students
>
Find out more
iaelyon