Alternance Forum at iaelyon: future students, meet companies looking to recruit!
Evènement |
March 14, 2019
From 12.00 to 5pm
Company forum open to all future iaelyon students. Alternance offers for third year students and graduate students.
Forum Stages-Alternance 2019
> Companies represented at the forum
> Alternance programs at iaelyon
The Internship-Alternance Forum organized by iaelyon as part of the 7th edition of the
Careers Weeks
welcomes over 30 companies from all business sectors, regional and national, SMEs, ISEs and multinational companies. This Forum offers companies the opportunity to increase and diversify their usual recruiting field and establish direct contact with Bachelors candidates, professional Bachelors candidates and Masters candidates.
Company: come recruit your future student employees
To benefit from a free stand or present a profession or activity, please contact: Anne-Sophie GUEHO, Director of Career-Internship-Alternance Programs - iae-eca@univ-lyon3.fr
Why choose alternance at iaelyon?
To choose alternance is to decide to combine studies with practical application in a business setting. That is why iaelyon offers today a wide range of alternance programs: Professional Bachelors, Masters, chartered accounting. It is a great opportunity for a student to integrate the professionnal world and also a great opportunity for companies that wish to train their future employees.
It is an opportunity for students to:
Learn a job while studying for a degree
Gain work experience
Apply theoretical knowledge to business realities
Study for a degree while earning money
Facilitate professional integration at the end of the program
An opportunity for the employer to:
Anticipate recruitment needs
Train according to its own corporate culture
Pass on expertise to insure company's future
Benefit from a fresh outlook on company practices
Choose an adequate contract for your company: contract of apprenticeship or professional training contract
Companies attending the forum :
ACCENTURE France
ADECCO GROUP
ARTHAUD & ASSOCIES
AUCHAN RETAIL France
AVENIR FOCUS
BÉABA
BIOMERIEUX
BLANCHON
BNP PARIBAS
CAISSE D'EPARGNE LOIRE DROME ARDECHE
CAISSE D'EPARGNE RHONE ALPES
CASTORAMA
CEGID
CGI
CREDIT AGRICOLE DES SAVOIES
DECITRE
DIMO SOFTWARE
FIDUCIAL
GALEC
GROSFILLEX
GROUPE VOLVO RENAULT TRUCKS
HOMESERVE
INOVEA
MOZAIK RH
RH PARTNERS
SFC
SODIAAL
SOLVAY
SOPRA
STERIA
INFOS PRATIQUES
Location
iaelyon School of Management
Université Jean Moulin
Campus Manufacture des Tabacs
6 rue du Professeur Rollet - Lyon 8e
(Subway Sans Souci - Tramway T4 Manufacture des Tabacs)
Access map
Partners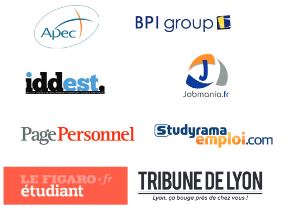 Informations
­14 March 2019
From 12:00 PM to 05:00 PM
iaelyon School of Management
Université Jean Moulin
Campus Manufacture des Tabacs
6 rue du Professeur Rollet - Lyon 8e
(Subway Sans Souci - Tramway T4 Manufacture des Tabacs)
Access map
iaelyon