Annual 2017 AIMS (International Organization for Strategic Management) Conference, in partnership with iaelyon.
Around the theme "Scientific evolutions and revolutions: which consequences for the strategic management?" The 26th annual conference of the International Organization for Strategic Management is organized within the framework of the Federative and Research Structure MAELYSE (Management- Economy- Lyon- Saint-Etienne), which gathers Research labs in Management at iaelyon, University Jean Moulin, emlyon business school, University Lumière and University Jean Monnet.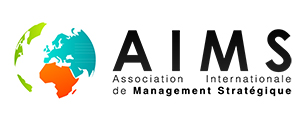 The scientific event includes 11 thematic sessions of the AIMS and several other submissions for a total of more than 160 presentations. Beyond the submissions, there will be 2 round tables, 2 sessions "Around a publication", plenary sessions, one session focusing on methodologies regarding the use of big data, one controversial session and several pre-conference workshops which will be a first.
The 26th annual conference of the AIMS will take place from June 7th, to June 9th at University Jean Moulin, except from one doctoral workshop that will take place at University Lyon Lumière.

PROGRAM
Wednesday, June 7th 9am – University Lumière: pre-conference
A doctoral seminar and 5 workshops (Writing Workshop, Case studies Workshop, Teaching with the digital workshop, Animated video workshop, Workshop-Debate: Inputs and perspectives of the clinical and psychoanalytical approaches of organizations)
Wednesday, June 7th 2pm- University Jean Moulin: annual Conference
PLENARY SESSIONS
Inaugural academic plenary session, moderated by Christopher Tucci, Professor in Technology Management, Director of the Chair "Corporate Strategy and Innovation" and Dean of the College of Technology Management at the Ecole Polytechnique Fédérale de Lausanne.
Christopher Tucci will study the notion of business model according to three main contexts: start-ups, reconfiguration of a company and sustainable development. He will talk about the tools and perspectives to make sense of business models especially to help managers use them, and even transform them in an innovative way. He will address the application of the business models, especially in link with crowdsourcing, connected objects (Internet of Things) and the 4.0 industry. Eventually Christophe Tucci will talk about the reasons that make it so difficult to collect knowledge on business models.
Professional plenary session, moderated by Alain Pluquet, Corporate Vice President, Chief Data Officer at bioMérieux, former Corporate Vice President, Chief Technology Officer, Innovation. M. Pluquet will talk about the consequences of technological transformation on the business model of bioMérieux, global leader for diagnosis.
ROUND TABLES
Managerial innovation and responsible management : from emancipation to performance.
Moderated by the AIMS working group "Managerial Innovation". Thibaut Bardon (Audencia Business School), Albert David (Paris-Dauphine), Frédéric Roques (former leader EGIS) and Axelle Milochevitch (Deputy Director) will participate in the session.
Innovation, spaces and territories
Organized by Silhem Ben Mahmoud-Jouini (HEC Paris), Florence Charue-Duboc (Ecole Polytechnique) and Julie Fabbri (emlyon business school), the round table will host Amadou Lô (iaelyon School of Management), Nathalie Raulet-Croset (IAE de Paris) and Bertrand Sergot (Université Paris Sud)
SESSION "AROUND A PUBLICATION"
Review of the works of Jacques Girin: his inputs and his current implication for contemporary Management
With Jean-François Chanlat (Paris-Dauphin), Hervé Dumez (École polytechnique), Marianne Abramovici (Paris-Est Marne-la-Vallée), Franck Aggeri (MINES ParisTech), Amaury Grimand (IAE de Nantes) and Eléonore Mandel (Ecole de Management de Normandie)..
The future of Management Education- Challenges for Business Schools around the world Stéphanie Dameron (Paris-Dauphine) and Thomas Durand (CNAM), co-author will sum up the main inputs of the publication and organize a debate with the audience. Controversial session : Strategic Management in France : stories around a predicted weakening. With Philippe Baumard (CNAM-Paris), Stéphanie Dameron (Paris-Dauphine), Rodolphe Durand (HEC Paris), Frédéric Fréry (ESCP-Europe), Frédéric Le Roy (Université Montpellier) and Philippe Monin (emlyon business school).
FOCUS SESSION
Interests, practices and limits of the big date for Research in strategy and management.
With Bernard Forgues and Clément Levallois (emlyon business school).
Thematic sessions of the AIMS
> Find out more
INFOS PRATIQUES
Location
iaelyon School of Management
Université Jean Moulin
Manufacture des Tabacs
6 rue du Professeur Rollet, Lyon 8e
(Subway : Sans Souci / Tramway : T4 Manufacture)
Access map