Employability Weeks at iaelyon – 2018
Evènement |
November 19, 2018
From November 19 to 28, HR Experts (recruitment consultants, career management and professional mobility advisors and company Human Resources managers) will prepare you for an internship or job hunt.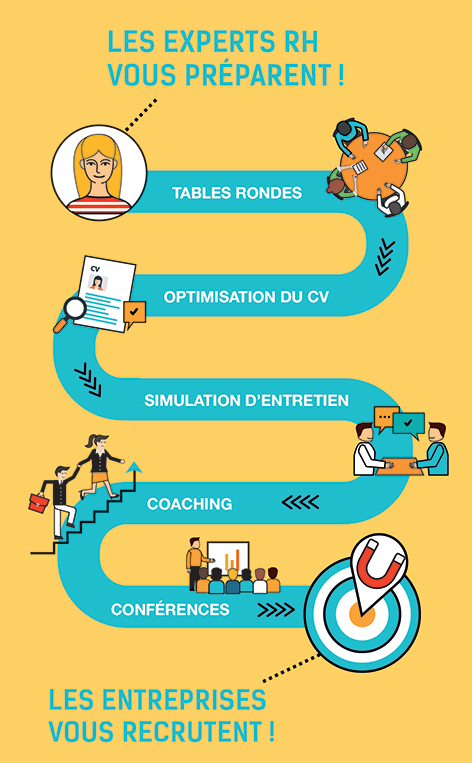 PROGRAM OF THE EVENT
Exchanging with professionals will allow you to get some valuable advice to optimize your approach and to smoothly and effectively apprehend your search while meeting recruiters expectations.
They will help you to:
Define your project and inquire into your target market
Contact decision-makers through social and contact networks
Prepare and succeed in your interviews
Optimize your communication tools
Make a difference during an interview
Seize all opportunities while completing your internship
These shared feedbacks will prepare you well to a competitive environment by helping you rationalise your approach. You will thereby excel during the
Careers in Management Recruitment Forum
taking place on November 28th 2018 from 12PM to 5PM.

◙ PREPARATION ROUND TABLES WITH HR EXPERTS AND CONSULTANTS
November 20, from 12pm to 2pm, Salon des Symboles - Registration is mandatory
---

◙ WORKSHOP "L'APEC & VOUS"
November 21, from 12.30 to 2pm Room 102 - Registration is mandatory. The event is open to all University Jean Moulin students
---
◙ CONFERENCE ON SALES CAREEERS
November 23 from 12pm to 2pm - Auditorium Malraux

This conference will be presented by Campus Managers members of www.synergie-campus-entreprises.org Synergie Campus Entreprises and an iaelyon Alumni collaborator – Register by e-mail in November.

Over 30 big French and International groups, representing over a million workers in France, are part of the Synergie Campus association. Its objectives are to support exchanges between the professional world and higher education, disclose career opportunities and rehabilitate less popular jobs in the sales sector. Business positions in sectors such as manufacturing, services, large retailers, or banking may have the same name but cover different missions. Find out about the missions, multiple profiles, high responsibility positions and springboards, in France and abroad, that those companies offer their respective sales forces.
Adecco groupe France : Florence GRAVELLIER and Magali BERGER, Alumni iaelyon
Auchan Retail : Patrick PEYSSON and Sébastien Laurent, Alumni iaelyon and Equipment/Household and Leisure Sales Managers
Volvo France : Guy Bravais and Cécilia VAISSAIRE Alumni iaelyon and Service Contracts Analysts
Société Générale : Anne BEAGUE and Salvatore CACCIATORE, Risk Manager on the market of companies
Danone : Cihan SARIKAYNAK, Market Manager and Alumni iaelyon
---

◙ JOB INTERVIEW SIMULATIONS / SPEED COACHING / OPTIMIZING YOUR CV
November 26 from 12pm to 2pm - Salon des Symboles - Registration is mandatory
---
◙ CAREERS IN MANAGEMENT FORUM
November 28 from 12pm to 5pm - Salon des symboles
Internships – V.I.E (International Volunteer Program) – EMPLOYMENT FORUM for COMPANY RECRUITMENT –
Free Entry
As in previous years, iaelyon will host, for the benefit of its graduates and Master's degree students, over 35 companies from all business sectors (manufacturing, services, banking and insurance, retail, IT…), national and international companies, local SMBs and MSBs, all offering jobs, long-term internships and V.I.E. opportunities.
> Find out more
INFOS PRATIQUES
Location
iaelyon School of Management
Université Jean Moulin
Manufacture des Tabacs
Salon des Symboles
6 rue du Professeur Rollet
69008 LYON (M° Sans Souci - Tramway T4 Manufacture des Tabacs)
Access map
Informations
iaelyon School of Management
Université Jean Moulin
Manufacture des Tabacs
Salon des Symboles
6 rue du Professeur Rollet
69008 LYON (M° Sans Souci - Tramway T4 Manufacture des Tabacs)
Access map
Internship and Career Center
iaelyon