International seminar on HR practices: the Métallugie Rhodanienne (Rhône Metallurgy) heads for Madrid
Evènement |
June 26, 2017
As a strong partner of the second year of Master's in Human Resources and Organization and of the students organization ADEGRH, the Métallugie Rhodanienne has chosen to go to Madrid for its international seminar of 2017 HR practices.

This very expected event is the result of long preparations which has hold students spellbound to the last minute. The International Seminar of HR Practices is above all the climax of the program for students in the second year of
Master's in Human Resources Management and Organization
.
The destination was picked by the UIMM (the employers' organization for the industrial companies of the metal sector) after consulting its international partners. This year our students had the opportunity to take part in 2 days organized by the Rhône UIMM and the AEICM (Asociación de Empresarios de Comercio e Industria del Metal) from Madrid.
After getting an insight of the social context and the Human Resources thanks to the presentation of the Madrid industry, students learned more about the employment law and the trends in Human Resources thanks to AECIM. The 24 students and their 3 supervisors then went on site and visited three flagships of the Madrid metal industry.
First of all: IVECO Madrid, one of the best sites of the group in the world which was appointed Gold level for their "World class manufacturing". They then went to see ABB Madrid, headquarter of ABB in Spain and visited two workshops, one to repair engines and the second one to manufacture turbochargers. They ended the trip with LISI AUTOMOTIVE, a well known supplier in the automobile sector.

Estamos especialmente agradecidos a :
Master's in Human Resources
ADEGRH
The student organization of the M.Sc. in Human Resources
>
Find out more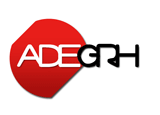 iaelyon