Join the 11th edition of Lyon International Fair!
Evènement |
November 16, 2016
From 12:00pm to 2:00pm
Lyon International Fair will take place on November 16th from 12:00pm to 2:00pm at the Salon des Symboles on the Manufacture des Tabacs Campus of University Jean Moulin. (Free entry)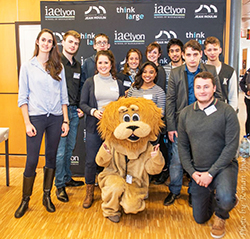 The international cooking contest organized by the international team of
That's IAE Lyon
organization brings together around ten teams, each of them representing one country. Participants are either local or foreign students from the university who decide to represent one country which is dear to them.
Teams are free to choose the dishes they bring and also have the opportunity to organize further activities linked to their country (music, dance, games…). Lyon International Fair is a free event open to all Jean Moulin students and staff. Visitors can wander amongst the different booths to taste national specialties. They are then invited to vote for their favorite team.
There will be two services, one at 12:00pm and the other one a 1:00pm to allow students who finish class at 12:30 or 1:00pm to take place in the event.
At 2:00pm votes will be counted to select the winner of the day and an award ceremony will be organized to reward the best teams.
The event organized by students from the organization That's IAE Lyon aims at bringing together French and foreign students, University Jean Moulin staff and Faculty for a friendly moment of sharing through the discovery of different cultures presented at the University.
We are looking forward to seeing you there to make the event a great success again.
Contact :
That's IAE Lyon – International Connection
Contact : international.thatsiae@gmail.com
INFOS PRATIQUES
Location
iaelyon School of Management
Université Jean Moulin
Manufacture des Tabacs - Salon des Symboles
6 rue du Professeur Rollet
69008 LYON (M° Sans Souci - Tramway T4 Manufacture des Tabacs)

Access map

iaelyon