International

,

Recherche

,
Management of Multinational Companies: A French Perspective
Evènement |
15 janvier 2013
Ouvrage publié par l'Axe de recherche Management International, sous la direction d'Ulrike Mayrhofer, Directrice du Centre de Recherche Magellan de l'IAE Lyon. Préface d'Alan Rugman, Professeur à Henley Business School, University of Reading.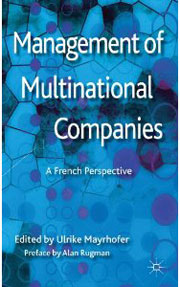 > Sommaire
> Les auteurs

Multinational companies play a major role in the globalization process and contribute significantly to the creation of wealth in national economies. Today, there exist about 82,000 multinational companies which possess 810,000 subsidiaries located across the world. In a rapidly changing environment, multinational companies need to find new management methods to improve their global competitiveness.
This volume offers an innovative perspective of managerial practices adopted by multinational companies that operate in the French economy. It highlights the diversity of responses these companies have developed in regard to the challenges of market globalization. The authors examine the complexity of the internal organization of multinational companies, namely the management of headquarters-subsidiaries relationships, but also the performance of partnerships and networks they form with actors from other countries.
The contributing authors present the findings of empirical investigations they conducted on the management of multinational companies and provide explanations illustrated with quantitative data, examples and case-studies of companies such as Accor, Alcatel-Lucent, Crédit Agricole, Danone, EADS, GL events, Google, Renault, Groupe SEB and Société Générale.
Basingstoke, Palgrave Macmillan, December 2012, 288 p.
(Book originally published in French: Le management des firmes multinationales, Paris, Vuibert, 2011, 268 p.).


CONTENTS
Preface: Alan Rugman, Henley Business School, University of Reading
Part I: New challenges of multinational companies in a rapidly changing global environment
Chapter 1: Multinational companies in the global economy, Ulrike Mayrhofer
Chapter 2: Growth opportunities for French MNCs in emerging markets (BRIC), Catherine Mercier-Suissa
Chapter 3: Internationalization strategies of MNCs in the wine industry, Catherine Pivot
Chapter 4: The governance of MNCs: continuity or breakdown?, Fabrice Roth
Chapter 5: Impact of credit rating on strategies of MNCs, Claire Faverjon and François Lantin

Part II: The complexity of internal management: headquarters-subsidiaries relationships
Chapter 6: Establishing foreign subsidiaries: the Accor group, Emna Moalla and Ludivine Chalençon
Chapter 7: The legal framework of the relationship between headquarters and subsidiaries in MNCs, Jean-Baptiste Cartier and Christopher Melin
Chapter 8: Innovation processes in MNCs: the case of Groupe SEB, Lusine Arzumanyan and Christopher Melin
Chapter 9: Creating an observatory of international managerial professions, Jérôme Rive and Paul Marc Collin
Chapter 10: International mobility: an opportunity for managers to acquire and transfer competencies, Pascale Berthier and Alain Roger

Part III: Management of multiple partnerships formed by multinational companies
Chapter 11: How do MNCs manage successful partnerships?, Emna Moalla and Dora Triki
Chapter 12: Managing alliances of MNCs: does national culture matter?, Yves-Frédéric Livian
Chapter 13: The construction of networks by MNCs: an analysis of the banking sector, Paul Marc Collin
Chapter 14: Partnerships between French MNCs and Chinese companies: win-win relationships?, Maha Raïs and Simin Lin
Chapter 15: Implementing corporate social responsibility in MNCs: Google Inc., Aline Pereira Pündrich and Sylvaine Mercuri
Contributing authors:

Lusine Arzumanyan, Pascale Berthier, Jean-Baptiste Cartier, Ludivine Chalençon, Paul Marc Collin, Claire Faverjon, François Lantin, Simin Lin, Yves-Frédéric Livian, Ulrike Mayrhofer, Christopher Melin, Catherine Mercier-Suissa, Sylvaine Mercuri, Emna Moalla, Aline Pereira Pündrich, Catherine Pivot, Maha Rais, Jérôme Rive, Alain Roger, Fabrice Roth and Dora Triki.
About the editor:

Ulrike Mayrhofer is Professor of Management at IAE Lyon - Jean Moulin Lyon 3 University. She is the Director of the Magellan Research Centre and Vice-President of Atlas/AFMI (Francophone association for international management). Her teaching activities concern international management, strategic management and international marketing. She has written several books and case-studies as well as many journal articles on multinational companies.