Organization of a study trip for Master's students in Human Resources Management: destination Madrid
Evènement |
December 14, 2016
Every year, students in their second year of Master's in Human Resources Management organize a study trip with the support of the "Métallurgie Rhodanienne" (Rhône Metallurgy). Students, faculty and staff helped by participating in their big tombola.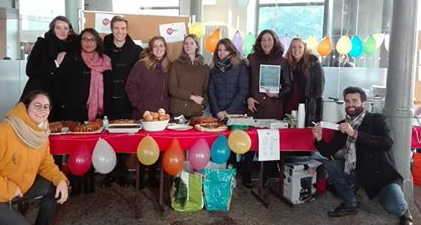 After a trip to Switzerland
last year, they now aim to discover Madrid and its good practices in the field of Human Resources in May 2017.
To finance their trip, students are pitching in: on November 15th, they organized a bake sale on the Manufacture des Tabacs campus. The sale was successful and they managed to collect approximately 400 euros.
The next step consisted in the organization of a tombola with more than 60 prizes to win.
The draw took take place in room 107 on the Manufacture des Tabacs Campus, on Wednesday, December 14th from 11am to 12pm. The luckiest ones won vouchers for different stores and activities: Exoloisirs, Game it, Only Kart...
> Join the Master's students in HR Management on their Facebook page.
INFOS PRATIQUES
Location
iaelyon School of Management
Université Jean Moulin
Room 107
6 Cours Albert Thomas
69008 LYON (Subway Sans Souci - Tramway T4 Manufacture des Tabacs)
Master's in Human Resources Management
iaelyon