The 2017 University Schools of Management French Cup (Coupe de France des IAE 2017): iaelyon is ready to host the event
Evènement |
March 3, 2017
For the first time since its creation 10 years ago, iaelyon is glad to host the University Schools of Management French Cup from March 3rd, to March 5th. The project is carried out by the student's organization That's IAE Lyon.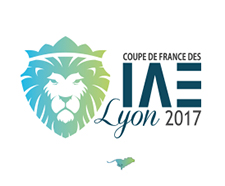 Promoting the IAEs and creating a cohesion between the French University Schools of Management: this unifying and friendly sporting event matches echoes the dynamics of the IAE France network. For this special edition, the symbolic rate of 1,000 participants has been exceeded and 28 IAEs will be represented
The French Cup will take place from March 3rd to March 5th 2017 on the sporting facilities of la Doua campus (Villeurbanne) and will gather around 1,000 students.
Sports, cohesion and team spirit
The University Schools of Management French Cup is the event of the IAE France network which gathers the most students during a festive sporting weekend. For 3 days, players will gather around 4 sports: football, handball, basketball and volleyball, team sports representative of managerial values.
The selection for the Lyon delegation took place in November and since then, the
38 selected athletes
have trained relentlessly.
Regarding the logistics, recruitments are over. The organizing team has 300 volunteers amongst whom 150 BMA (
Association & Management Volunteer Program
). Most of them will build their first University volunteering experience during the French Cup.
10th anniversary of the IAE French Cup: a few surprises finally disclosed!
Each new edition brings its batch of innovations. This year, iaelyon doubles its efforts and will offer:
Collector outfits for all the players: each participant will be offered a tee-shirt of the 2017 University Schools of Management French Cup in the color of his own IAE.
A treasure hunt within the city: in partnership with the student organization
Ekklesia.
Students will be able to take part in a treasure hunt throughout Lyon. The winning team will be awarded with a trip to a European capital.
Establishment of the CFD Village (French Cup Village): several companies and organizations will be running a booth to give information and organize activities around the sporting facilities. 2 speakers will comment the tournaments and will invite the delegations to take part in all the activities organized.
An "Apéro des régions" (Regional Aperitif), Lyon style: each delegation will introduce regional specialties to other IAEs.
CONTACT
To get the latest updates on the 2017 French Cup, go on
the Facebook page
.
Do not hesitate to reach out to the organizing team at
cdfiae2017@gmail.com
to get more information
>Website of the 2017 University Schools of Management French Cup
IAE FRANCE

iaelyon