2017 MOCI (Monitor for International Commerce) ranking for International Commerce programs: two iaelyon Master's programs and one iaelyon MBA nominated
Evènement |
March 1, 2017
The Master's program in Foreign Trade and the Master's program in International Business Realities from iaelyon have been nominated in the category "Masters IAE" (Master's of French University Schools of Management), and the International MBA in the "Executive MBA" category.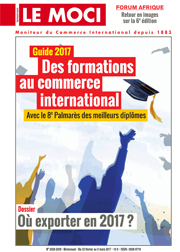 The bimonthly MOCI,for International Commerce releases its 7th ranking for International Commerce programs, produced with the help of a panel of experts in the field. For the second time, the ranking (the only one specifically dedicated to International Commerce) is released in the form of a guide of programs which is both a testing ground for programs as well as a tool for those operating at the international level.

2 iaelyon programs of the Master's in International Management (EPAS accredited) have once more been distinguished in the 2017 ranking.

The International Business Realities Master's program is nominated in the category "Masters IAE". The program sheds light on big international challenges and provides students with management tools allowing them to act in a cross-cutting approach and in a multicultural context.
The Master's students in International Business Realities have the opportunity to complete a double-degree with the University of Economics, VSE Prague.
The iaelyon International Business Realities Master's program has already been distinguished in the MOCI ranking in
2011
, in
2012
, in
2013
, in
2014
, in
2015
and in
2016
.

The Master's in Foreign Trade is nominated in the category "Masters IAE". A reference in the trades of export, the Master's provides the necessary skills to elaborate and set up development plans for export in all kinds of international companies.
The Master's students in Foreign Trade can complete a double-degree with the Facoltà di Economia e Management of the University of Turin allowing them to obtain the Master's degree in Foreign trade AND the Laurea Magistrale in Economia e Management Internazionale.

The iaelyon Master's in Foreign Trade has already been distinguished in the MOCI Ranking in 2011, in 2012, in 2013, in 2014, in 2015 and in 2016.


The International MBA (Executive MBA) is nominated under the category "MBA and Executive MBA"
Fully taught in English, the IMBA offers executives a unique opportunity to gain and refresh their knowledge and managerial techniques in a context that fosters intercultural exchanges. The iaelyon International MBA aims at preparing participants to manage in an international context and to give them the keys to understand companies in a globalized environment.

> The 2017 MOCI guide