2018 iaelyon International Week: 68 participants from 29 countries
Evènement |
January 8, 2018
Management seminars taught in a foreign language, international Research seminars, a Pedagogical Innovation and TEL workshop… iaelyon is running the 12th edition of its International Week and welcomes 68 Faculty and practitioners coming from 29 countries. 91 seminars are offered to 2,000 Master's students and participants in executive education.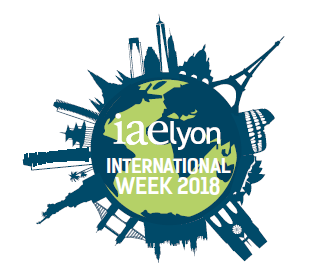 From January 8th to January 13th 2018, the international dimension will be enhanced at iaelyon:
the School of Management will welcome 68 participants, international representatives from the academic and professional world, to take part in Research seminars along with Faculty from iaelyon and to teach 91 management seminars also open to professionals, in a foreign language.
The international Week first organized 12 years ago has grown with new initiatives over the years.

For the 2018 edition, iaelyon offers:
3 RESEARCH SEMINARS: WEDNESDAY JANUARY 10th FROM 2:00PM TO 6:00PM
A scientific event bringing together Visiting Professors participating in the iaelyon International Week, iaelyon Faculty and Ph.D. students around three cross-disciplinary themes "Complexity, Innovation, Networks"; "Management and Societal Responsibility of Organizations", "International Management"
A detailed program will be available soon.
A PEDAGOGICAL INNOVATION AND TEL WORKSHOP: WEDNESDAY JANUARY 10th FROM 2:00PM TO 4:00PM
Presentations from 2:00 pm to 4:00 pm, followed by debates moderated by Elise Lavoué, iaelyon.
A detailed program will be available soon.
A MEETING OF THE NETWORK "CSR AND SCHOOLS OF MANAGEMENT" WEDNESDAY JANUARY 10th
Sharing experiences and good practices around societal responsibility. The "CSR Network" created in 2016 brings together participants from the International Week coming from member Schools of PRME and UN Global Compact but also other Schools.
TWO SESSIONS IN MORROCCO AND CZECH REPUBLIC
In partnership with HEM Business School and the University of Economics (VSE Prague). Both sessions are open to iaelyon students.
> Find out more about the sessions at HEM Maroc and University of Economics, Prague

91 INTERNATIONAL SEMINARS, 10 THEMES
Designed for Master's students, executive education participants and professionals the management seminars are taught in English or Spanish by Visiting Professors from foreign Universities and Business Schools. The themes cover all fields of management (marketing, finance, human resources, international management, strategy…) and give the opportunity to discover through very interactive educational methods, an innovative subject related to management. Participants benefit from an international and cross-cultural approach to cross-disciplinary or key management subjects, and a sectorial approach on subjects such as ethics, conflict resolution, projects management, leadership…
Seminars are organized from January 8th to January 10th and from January 11th to January 13th 2018.
> See the full list of seminars offered in 2018
> Testimonies of participants
2018 PARTICIPANTS:
CORPORATE SOCIAL RESPONSIBILITY
Gary BUTTRISS - Australian National University (Australia)
Monica CHAVEZ - ESAN University (Peru)
Canan MADRAN - Dokuz Eylül University (Turkey)
Lorella PIGNET-FALL - iaelyon School of Management (France)
Carlos ROMERO USCANGA - Tecnológico de Monterrey (Mexico)
Eddy SOUFFRANT - University North Carolina at Charlotte (USA)
ENTREPRENEURSHIP
Olli KUIVALAINEN - Lappeenranta University of Technology (Finland)
Renato PEREIRA - ISCTE Business School (Portugal)
Alejandro ZUNIGA FONSECA - Universidad Iberoamericana León (Mexico)
FINANCE
Elias BOUKRAMI - Regent's College (United Kingdom)
Richard BUTTIMER - University of North Carolina at Charlotte (USA)
Radek CAJKA - University of Economics, Prague (Czech Republic)
Federico DE CRISTO - Universidad Austral (Argentina)
Jorge GUILLEN - ESAN University (Peru)
Dolly KING - University of North Carolina at Charlotte (USA)
Carlos RODRIGUEZ - University of the Basque Country (Spain)
Charbel SALLOUM - USEK School of Business, Holy Spirit University of Kaslik (Lebanon)
Ludmila STERBOVA - University of Economics, Prague (Czech Republic)
HUMAN RESOURCE MANAGEMENT
Julie DAVIES - University of Huddersfield (United Kingdom)
Natalie KOEPPE - Toulouse School of Management (France)
Diane-Gabrielle TREMBLAY - TÉLUQ - Université du Québec, Montréal (Canada)
Ricardo VARELA - Universidad Nacional Autonoma Mexico (Mexico)
Matthias WALTHER - Consultant (Belgium)
INFORMATION SYSTEMS
Vladlena BENSON - Kingston Business School (United Kingdom)
Wei-Lun CHANG - Tamkang University (Taiwan)
Ali ELQUAMMAH - HEM Business School (Morocco)
Sirajul ISLAM - Örebro University (Sweden)
Zakaria MAAMAR - Zayed University Dubaï (United Arab Emirates)
Athanasios PAPADOPOULOS - Kent Business School (United Kingdom)
INTERNATIONAL MANAGEMENT
Annalena FAJEN - Otto-Friedrich University Bamberg (Germany)
Elhadji Moussa FALL - BEM Dakar (Senegal)
Carme FIGUEROLA - University of Lleida (Spain)
Terril FRANTZ - Peking University HSBC (China)
Tatiana GRISHCHENKO - HSE (Russia)
Arkadiusz KOWALSKI - Warsaw School of Economics (Poland)
Driss KSIKES - HEM Business School (Morocco)
Anita PELLE - University of Szeged (Hungary)
Markus PRANDINI - ZHAW Zurich University of Applied Sciences (Switzerland)
Thierry SAVATIER - TSR Consulting (France)
LEADERSHIP
Alan CABELLY & Jean BENEVENTO - Portland Leadership Institute (USA)
Randy CAPPS & Eugene SMITH - Western Kentucky University (USA)
Alma HALL & Pamela DECKER - Georgetown College, Kentucky (USA)
Christina SANCHEZ - University of North Carolina at Charlotte (USA)
Ingela SOLVELL - Uppsala University (Sweden)
MANAGEMENT
Raul AMIGO - University of San Andres (Argentina)
Andrew BRADLY - Australian National University (Australia)
Stefano DENICOLAI - Università di Pavia (Italia)
Yong Jin KIM - Sogang University (South Korea)
Luciano TRAQUANDI - Università LIUC Castellanza (Italy)
MARKETING
Per AMAN - Linköping University (Sweden)
Raul AMIGO - University of San Andres (Argentina)
David BUISSON - University of Otago (New Zeland)
Silvia DIDIER - iaelyon School of Management (France)
Tomasz DOMANSKI - University of Lodz (Poland)
Carmela DONATO - Luiss University Roma (Italy)
Jorge FLORES GOMEZ - Universidad Iberoamericana León (Mexico)
Thomas GUEDJ - Consultant (France)
Birgit HAGEN - Università di Pavia (Italy)
Petr KRAL - University of Economics Prague (Czech Republic)
Chia Chi SUN - Tamkang University (Taiwan)
Hicham TASSI - HEM Business School (Morocco)
STRATEGY/OPERATIONS MANAGEMENT
Randy CAPPS & Eugene SMITH - Western Kentucky University (USA)
Luis CASTIELLA - Universidad San Andrès (Argentina)
Ye-Sho CHEN - Louisiana State University (USA)
Stephen KELLY - Edge Hill University (United Kingdom)
Ethel PIS DIEZ - Universidad Austral (Argentina)
Carlos ROMERO USCANGA - Tecnológico de Monterrey (Mexico)
Chia Chi SUN - Tamkang University (Taiwan)
Diane-Gabrielle TREMBLAY - TÉLUQ - Université du Québec- Montréal (Canada)
Alfredo VALENTINO - Università Luiss Guido Carli Roma (Italy)